Summer is traditionally the perfect time to knock some of the home renovating items off of your to-do list. For those of us in Ontario, where winters can be unforgiving, summer is the perfect time to replace your patio door or undertake a bigger project like turning a window into a patio door.
Enlarging a window - or even the size of your current patio door - is a great way to make your outdoor space feel like it is an extension of your home. It also allows more natural light in which will make any room feel more light and airy.
Whether you are replacing a patio door, or enlarging a window, you have some decisions to make!
Patio Door Style
Sliding Patio Doors - sometimes called gliding doors - are what most people picture when we think of patio doors. They are your best option if you are tight on space and the large glass surface area means you'll be allowing the maximum amount of natural light in.
French Patio Doors - or swinging patio doors - are hinged at the sides and meet in the middle when closed. The advantage with these is that you create a large opening when both doors are in use.
Patio Door Material
Wood - Wooden patio doors do offer a certain style and can be customized with any colour of paint. But to keep them looking great and in good working order, they will require more TLC over the years. Wood patio doors are also typically more expensive than the other materials available.
Vinyl - Vinyl patio doors are made of a strong plastic material known for being durable, energy efficient and able to stand up against severe weather. Vinyl also comes in a variety of colours and finishes.
Aluminum - Aluminum patio doors are the least expensive doors. They do, however, have obvious downsides. Primarily, aluminium is not as energy efficient or durable as your other options.
Fiberglass - Fiberglass patio doors require little to no maintenance and are highly customizable, but this comes with a price as fiberglass is the costliest patio door material.
Patio Door Configuration
When it comes to configuration, the options you have are virtually endless. Patio doors are made-to-measure which means that each project is fully-customizable to your specifications. You can choose glass in dual or triple pane, glass tints, and you can apply quick styling by choosing between a standard Georgian grille, a contour (Prairie-style) grille, or terrace/garden door style (as illustrated below).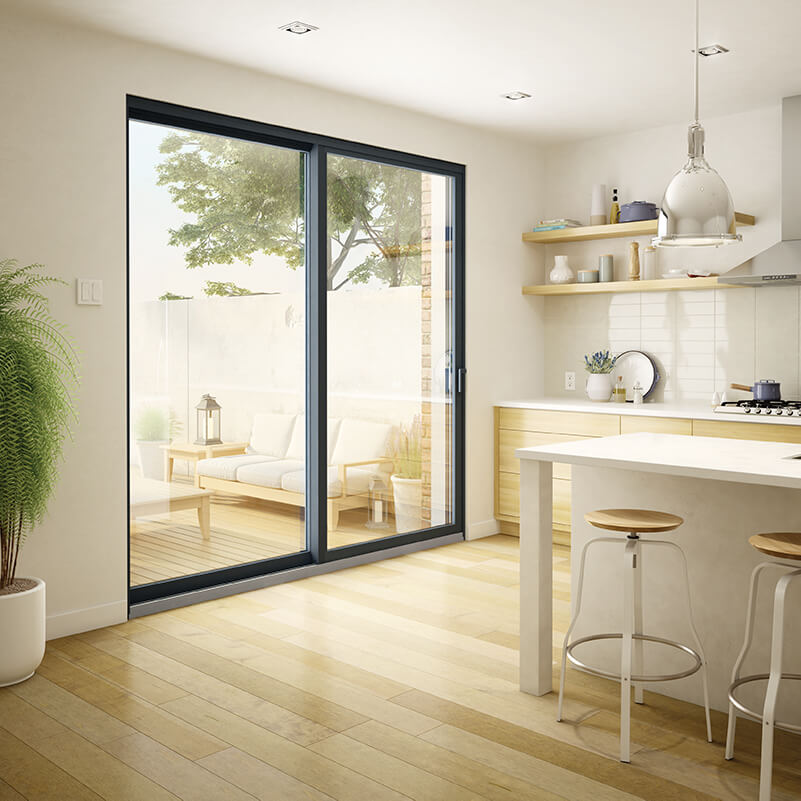 Patio Door Hardware and Options
Now that the hard choices are out of the way, there are still a couple of options for you to consider. You can choose a standard handle or a multi-point handle type for extra strength and security. And gone are the days where you have to limit yourself to a white patio door so you'll need to decide on a colour for your door and what type of finish you would like on your door handle.
Go Your Own Way
These more traditional patio door options don't strike your fancy? Why not get creative with your new patio doors? You can consider adding transoms to allow additional natural light into your home or add some sidelites which also provide a wider exterior view. Contact us to learn more about our patio door customization options. Feel free to check out our patio doors page to learn more about the products we offer.
Whatever options you decide on - we'd love to help you make your project come to life!
---
Related Articles